Product Description
Philips Respironics SimplyGo Mini Portable Oxygen Concentrator
The SimplyGo Mini portable oxygen concentrator (POC) is the latest addition to the Philips Respironics Right Fit line of oxygen products. The SimplyGo Mini is the lightest, most compact portable oxygen concentrator and has been designed and thoroughly tested for dependability and sturdiness in real-world situations – undergoing the same demanding testing regime as its counterpart, the established SimplyGo POC.
At less than half the size and weight of any other Philips Respironics POC, Simply Go Mini is built for the demands of today's active lifestyles and the need for excellence of quality.
The SimplyGo Mini delivers nearly 20% more oxygen than the closest competitive POC at similar weights, when the devices are operated at their maximum settings.
SimplyGo Mini POC features a smooth, modern design with an intuitive and easy to read top-facing screen in a stylish, comfortable carrying case, or an optional backpack-style case specially designed for the SimplyGo Mini. The placement of the external battery allows simple, easy replacement and two battery choices are available: a standard battery, with a typical duration of up to 4.5 hours; and an extended battery, with a typical duration of up to 9 hours.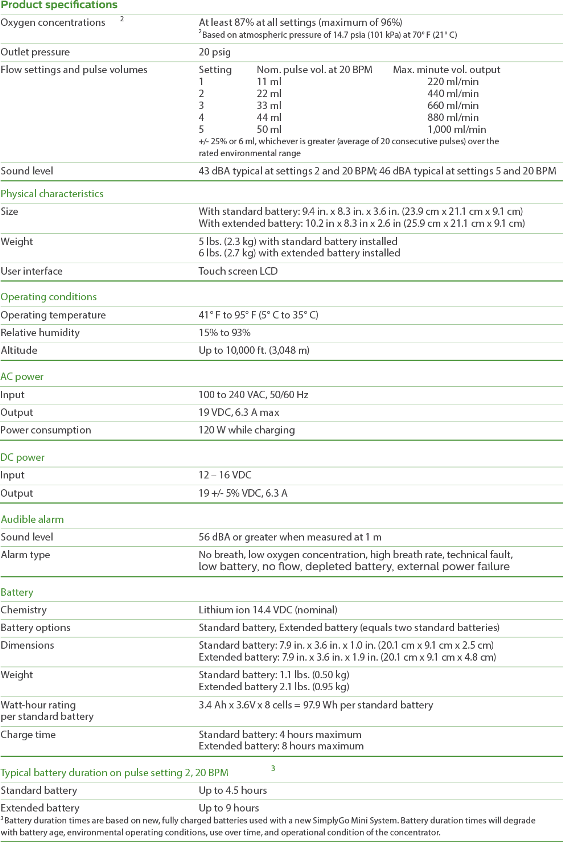 The SimplyGo Mini standard system includes:
SimplyGo Mini portable oxygen concentrator

Carrying Case

One standard rechargeable battery

DC and AC power cords

Accessory bag

User manual
Other SimplyGo Mini accessories also available:



Accessories

Part Number

Standard lithium ion battery

1116816

Extended lithium ion battery

1116817

SimplyGo Mini AC power cord

1082664

SimplyGo Mini AC power supply

1116818

SimplyGo Mini DC power supply

1116819

SimplyGo Mini external battery charger

1116830

SimplyGo Mini airline cable

1113902

SimplyGo Mini User Manual

1118724

Accessory Bags - brown

SimplyGo Mini carry bag and strap, brown

1119897

SimplyGo Mini accessory bag, brown

1116824

SimplyGo Mini backpack, brown

1116836

Accessory Bags - black

SimplyGo Mini carry bag and strap, black

1119928

SimplyGo Mini accessory bag, black

1119893

SimplyGo Mini backpack, black

1119894

Warranties

SimplyGo Mini 3-year system, 1-year sieve warranty

1120121

SimplyGo Mini 2-year sieve warranty extension

1120123

SimplyGo Mini 3-year system, 3-year sieve warranty

1122070
Product Videos
Custom Field
Product Reviews